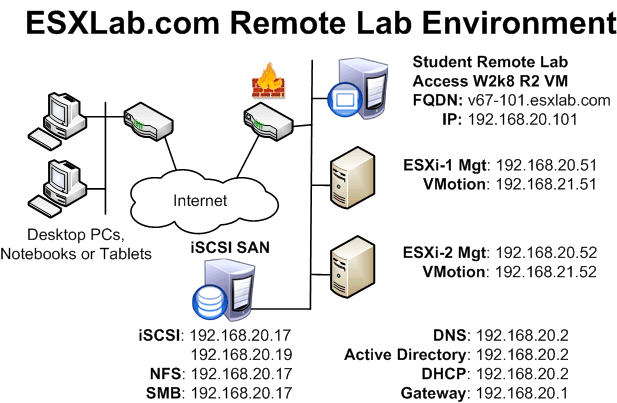 ESXLab Remote Access vSphere Labs
VMware vSphere only installs and runs on Enterprise class PC Servers, shared storage and networking - which can cost thousands of dollars and requires skilled technical resources to configure for proper use. ESXLab takes the cost and risk out of running VMware vSphere labs by making pre-configured, ready to run, classroom labs or individual self-study VMware labs available for rent.
Server Pod Configuration
A server Pod is a set of one or more virtual servers organized into a lab (we call a pod). We have sufficient facility to comfortably support 150+ learners concurrently - with no slow downs or resource contention. Our labs are dedicated to each customer (not shared) and are available 24hrs/day during the lab rental period.
Each server pod contains:
A remote Windows Server 2008 R2 desktop to access your lab environment (access via a web browser or RDP / RDS)
One or two virtual ESXi hosts with 4 CPU cores, 12+ GB of RAM and 150GB of local storage
An Active Directory server configured for the esxlab.com domain
Full DNS and DHCP services
An iSCSI SAN with 5 generously sized volumes (LUNs) for ESXi shared storage labs
A gateway router for full Internet connectivity
Professional hosting at our datacenter
Full support during your rental
Classroom Lab Rentals
The success of your VMware class is our top priority. To guarantee you an event that students will rave about we:
Offer you dedicated labs availabe 24hrs/day for the duration of your class (provisioned and released the weekend before the class starts)
Provision more labs that you request (in case you get last minute enrollments)
Provide a free practice/demo lab to your instructor
Offer priority 7x24 support during your class including live support and e-mail support (for non-critical items)
Self-Study Lab Rentals
We offer VMware labs ready for your personal study/practice. Use our labs to learn or brush up on vSphere 6, to practice using the latest features or to prepare yourself for VMware's certification exams. We offer individuals:
Lab rental periods of 7, 14 or 30 days (consecutive)
Dedicated labs availabe 24hrs/day for the duration of your class (provisioned and released the weekend before the class starts)
Offer support during business hours by e-mail
Datacenter Hosting
We host all of our servers in a Class-A datacenter located just outside of Toronto, Canada. Our datacenter parter offers us:
Direct, MPLS bonded, redundant GB network links to Internet backbone network providers with an average of 10ms to 15ms ping latency to any major ISP, anywhere in the world
A 500kVA diesel generator
Enterprise power management system with battery back up
4-way redundant cooling
24hr access and support
24hr network monitoring and support